We are running our fundraiser a 2nd time! Click the link above if you would like to support a great cause!
Thank you to all who have supported our Fundraiser in the time of a crisis! You all helped raise over $100!! We give all glory to God!
"Yea, though I walk through the valley of the shadow of death, I will fear no evil: for thou art with me; thy rod and thy staff they comfort me." Psalms 23:4
COVID-19 Response
In response to the request of our state's and nation's leaders to slow the spread of COVID-19 and as part of our duty as good citizens and a church to ensure the well being of our community and church members, starting Sunday March 22, 2020 Miracle Apostolic Church services will be Live Streamed ONLY. Check back here, on facebook, and on instagram for continuing updates. Links and updates will be posted regularly under "Other Information", Sunday School Updates will be posted under "MAC KIDZ". This will be updated as other information is posted. The Stream will go live at 9:55AM on Sunday and 7:30PM on Wednesday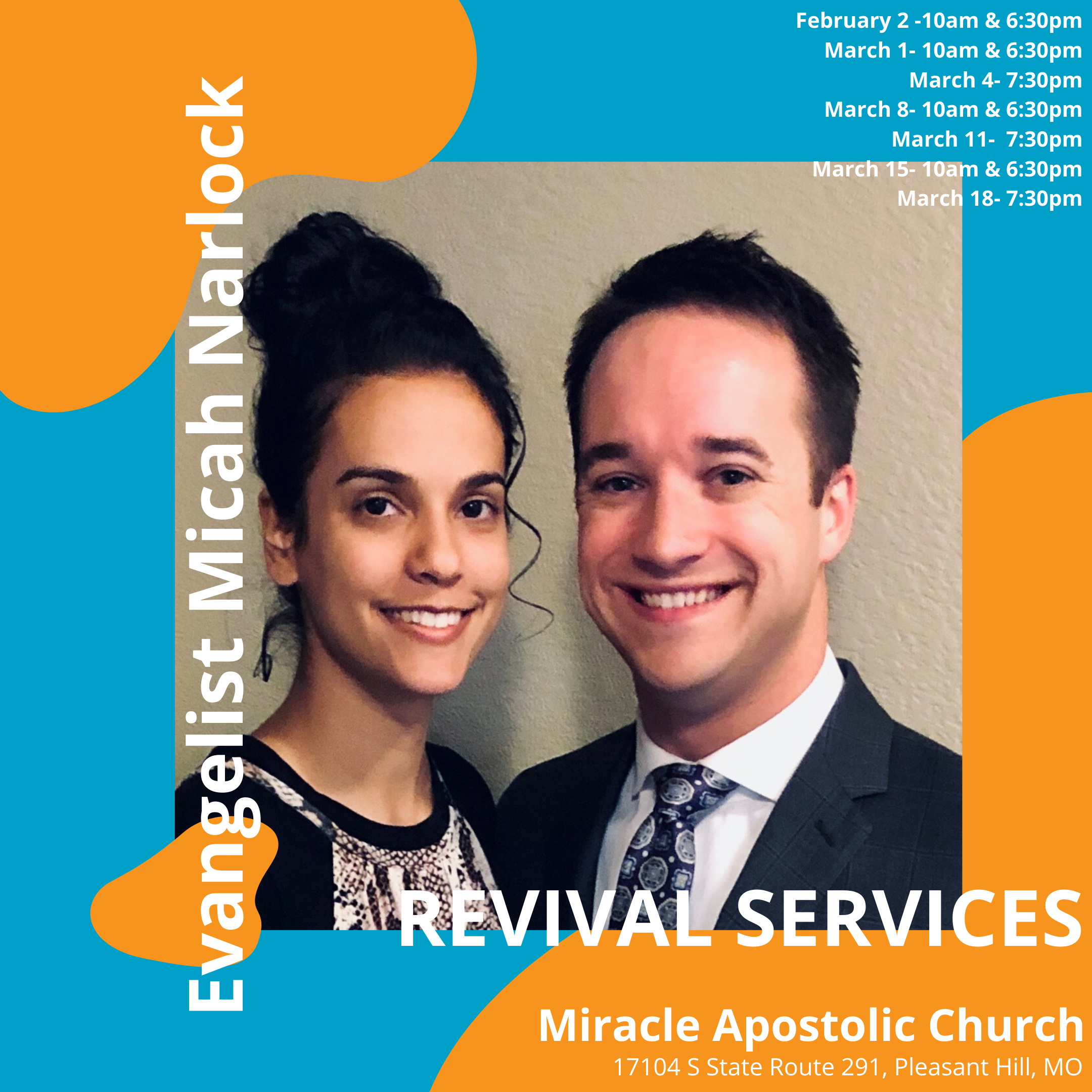 It's REVIVAL TIME in 2020! Save the dates! We will be having Evangelist Micah Narlock & family with us! Spread the word!
Dates:
Feb 2, 2020: 10 am & 6:30 pm
Mar 1, 2020: 10 am & 6:30 pm
Mar 4, 2020:  7:30 pm
Mar 8, 2020: 10 am & 6:30 pm
Mar 11, 2020:  7:30 pm
Mar 15, 2020: 10 am & 6:30 pm
Mar 18, 2020: 7:30 pm
It's Revival Time in 2020!
Bus Ministry at Miracle Apostolic Church
Each Sunday morning we run buses to the surrounding cities to bring children and families to Super Sunday! We play games, have puppet shows and object lessons, and learn priceless truths from the Bible. We are so excited about what God is doing through Kids Church and can't wait to see what all the future will bring.
To find out if one of our buses will be in your area, click the link below to view our contact information.
To meet our dedicated Bus Ministry Team, click the link below!
All Nations Sunday 2019 was a huge success!
Thank you to everyone who worked so hard to make this event possible.
Special thanks to La Nonna Italian Restaurant in Belton, MO and Barrigas Mexican Restaurant in Greenwood, MO for their extra help with our "Taste of the Nations."
We are excited to say that this will be an annual event at Miracle Apostolic Church and we are eagerly anticipating All Nations Sunday 2020!